The training camp for out-of-contract professional players in preparation for the FIFPro Winter Tournament in Norway, started on Monday 1 December 2014. We held 13 training sessions and played two games (against a FAS Course and Glebe North) as the squad prepared to travel to Norway last week. The yearly Tournament in Oslo is a chance for players from Ireland, Finland, Norway and Sweden to find employment.
More than 40 players trained at different stages at the AUL Complex, Clonshaugh, Co Dublin. This year's manager, Stephen Bradley, and his coach, John Martin, brought a youthful exuberance to training which really enhanced the training programme which is now in its sixth year.
The Vallhall Arena in Oslo is a fitting arena for the players to display their talents and across the four games in the tournament all players gave it their all.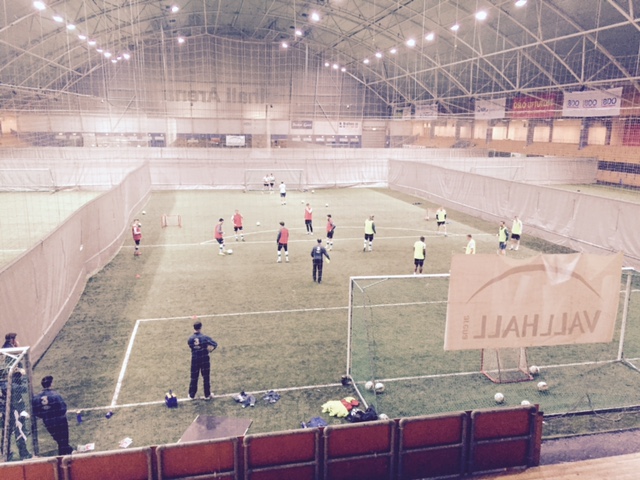 The PFA Ireland squad was a mixture of youth and experience; ranging in age from 19 up to 32. We're confident that the majority, if not all the squad, will receive offers of contracts or at least an opportunity to train at a club ahead of the 2015 League of Ireland season.
The goal of the whole venture is for players to get a professional contract either at home or aboard but it is not the sole aim of the tournament. For many players the unknown at the end of each season is their biggest fear. The fear that this could be it the end; years of trying to make it to the top could be finished without a second chance.
This training camp, in our eyes, is the second chance or the opportunity to show people what these players can do. We believe the environment we provide is that all players are the same, all trying to make it in the toughest industry which is professional football.
Many players over the past six years have pointed to this six week period as the turning point in their career, that second chance. Our job at PFAI Ireland is to restore their hunger for the game which may have waned through injury or lack of form.
We provide the opportunity; it's up to our members to grab it.