Three of our members received certificates for the FitCoach Fitness Instructor Award designed by Waverley Sports & Fitness Academy.
John Mountney, David O'Connor and Sean O'Connor, were joined by Simon Lestrange, paralympic athlete and goalkeeper for Irish 7-a-side football team whom qualified for Rio, from the Institute of Sport. The programme was designed by Waverley Sports & Fitness Academy Director and Education Manager, Derek O'Kelly and tutor Jonathan McCrum, and it took place over five weeks during December and January. The participants were taught how to apply the skills learnt to assist in their everyday football careers, to run alongside their football career, as well as preparing them for a career after football.
All the training took part at the National Sports Campus in Abbotstown; the classroom lectures took place in the FAI HQ, practical sessions were in the Tonezone fitness centre in the National Aqautic Centre and the students also got to use the new state of the art strength and conditioning facilities in the Institute of Sport's High Performance Unit.
Course designer, Derek O'Kelly said, "The fitness instructor award will qualify them to plan and instruct fitness programmes for teams and individuals and is a step towards a career in the sports and fitness sectors. All participants will progress from the FitCoach instructor award to training for the ITEC fitness instructor qualification which is internationally recognised, and specifically adapted by WSFA for developing fitness programmes for football players.
"The fitness instructor awards are part of PFA Ireland's educational commitment to its members who commented on the excellent career opportunities it would present for careers in the sports and fitness sectors."
Elements of the programme included anatomy and physiology for football fitness; principles of exercise, fitness and health; developing speed, strength & aerobic conditioning; health & safety in fitness planning for football; group/team exercise for indoor and outdoor use in football; nutritional guidelines; common sports injuries and designing individual fitness plans for players
Sean O'Connor said, "The reason why I done the course is because it's a chance to enhance your CV, to get employment in the off-season or when I finish playing, obviously I'm coming towards the latter stages of my career so I have to think about when I finish playing. It's a good opportunity, it's something that interests me as well staying involved in fitness, that's one of the reason's I did it. The other is because I took over at Crumlin United as Director of Football so it enhances my career there; it allows me put programmes together, put gym programmes together for the younger teams. On your CV it looks good if you're going for those types of jobs, it's another notch on the belt."
"I thought it was going to be a lot tougher as I'm out of school a long time, I thought it was going to be more like it was in school but it's not. There's more interaction. The tutor, Jonathan, he made it very enjoyable and very easy to understand. Anything you needed anything, if you didn't understand something you could go to him, he always made himself available if you needed to call him if you didn't understand something. And there's an online page that you can log on to and do some study on. They actually made it very easy for us."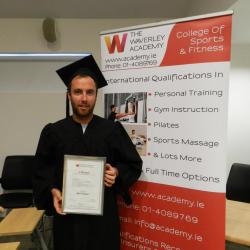 Sean O'Connor with his certificate
"FitCoach is an entry level fitness award for sports people; it's a course designed in preparation before you do your gym instructor course. We've been doing case studies as we've gone along; we've done three text studies which are part of the exam as well. It was a small class but that made it easier for the tutor to teach us, more one-to-one contact. Even in the gym, if you didn't understand how the gym equipment worked he'd come over and show you the proper demonstration."
"We had to do classroom stuff in the morning from 10.00 to 12.30, then have lunch and then from 1.30 to 4.00 we'd be in the gym doing the programmes. During the last two weeks we've used the Institute of Sport's High Performance Unit, instead of the Tonezone, the facilities over there are amazing. The facilities are unbelievable. They've a 100 metre running track; all top of the range machines, obviously all the high performance athletes would be getting to use that."
Sean was full of praise for the course: "I'd recommend that anybody who has time during the off-season to do it. They've made it cheap enough to do and the PFA help with a grant as well, and you're getting a qualification to work in a gym! Which is what most players would be interested in doing anyway."
Dundalk midfielder, John Mountney said "It will be a great benefit personally as I learned fitness techniques that will help my own personal performance. And from a career point of view the fitness instructor award is something I would hope to use down the road as fitness is an area I have an interest in"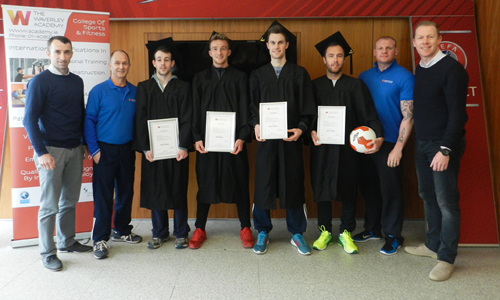 Ollie Cahill (PFA Ireland), David O'Kelly (Waverley Sports & Fitness), Simon Lestrange, John Mountney, David O'Connor, Jonathan McCrum (Waverley Sports & Fitness) & Stephen McGuinness (PFA Ireland)
Course designer Derek O'Kelly of Waverley Sports& Fitness Academy explained, "The blended learning approach of online learning and face to face training enables participants to combine their sporting and educational careers and the fitness instructor awards were specificaly designed by us for PFA Ireland members and athletes. Simon Lestrange is the first recipient of a fitness scholarship from Waverley Sports & Fitness Academy in conjunction with The Institute of Sport.
"Following the success of this pilot programme it is envisaged that the fitness awards will be available to all PFA Ireland members in the coming months."
PFA Ireland Player Executive, Ollie Cahill, who co-ordinated the programme with Derek O'Kelly said "When Derek approached us about putting on a Fitness Instructor course specially for our members we thought it would be something our members would jump at.
"We thrashed out the logistics of it to suit the players where the classes were done during the off season so it didn't clash with training or matches. The costing of it was extremely attractive and it would be based in Abbotstown. We had lots of interest initially but numbers dwindled due to players getting seasonal work but we still had enough numbers for it to go ahead.
"Derek and Jonathan from Waverley have put on a great course and have been very professional in everything they have done and the players who participated have enjoyed it immensely and learned a lot. It's great to see them being the first graduates through this programme and hopefully they will go out to the dressing rooms and spread the word about the course as we would like this to be an annual event.
"We would also like to thank Eoin Rheinisch and David McHugh from the Institute of Sport who provided access to the excellent facilities in the new High Performance unit"